Fantasy inspired by Indian mythology and folklore
A rebellious Indian fae.
A brooding snake shifter.
A pacifist weretiger.
And a posh Brit yaksha.
Meet them all in this multicultural magic academy trilogy.
---
Legacies gets a Bollywood twist in this tale of screwups and second chances.
---
As the only child of a broke single mom, Mal Jones doesn't mind breaking the law for cold, hard cash. Until now, her magic has kept her safe.
But when the local police almost bust her, Mal can only lay low at Legend Valley Academy, a paranormal boarding school.
With a criminal on her tail—who thinks she's a snitch—it's the best place to hide. Right?
Wrong.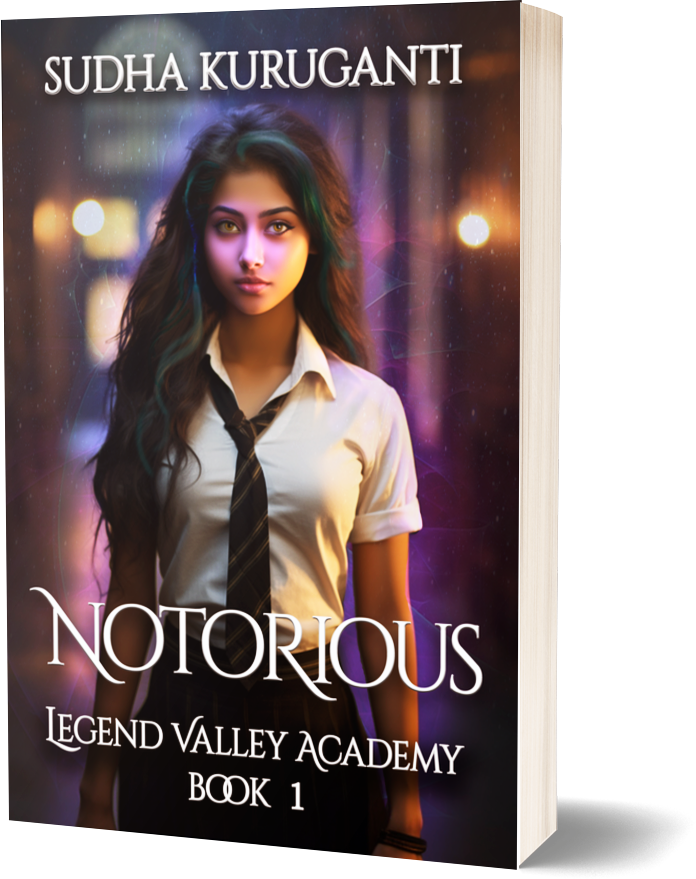 ---
Buy the book
Dive into this engrossing supernatural world for an intriguing mystery,
enemies to lovers romance, and mythical monsters and creatures
from every culture in the world!
---
Praise for the Legend Valley Academy series
Sudha Kuruganti has created a story with humor and an upbeat tone and plenty of witty dialogue. Notorious is a coming-of-age journey about a teenager who has the opportunity to change her circumstances with a paranormal school that will allow her to find herself, harness the best of her abilities, and even become a hero.
---
Whenever you read a book by Sudha, you know you get certain things: the book is well-structured, well-proofed and well-edited; the storyline is fast-paced, without trite or contrived scenes; the story is strongly written, the characters are complex and well-developed and the dialogue is honest and believable.
Amazon Reviewer
---
A talented and gifted author, Sudha Kuruganti will draw you into this world of enchanting beings and you will not want to leave. Her world building is detailed and imaginative. Notorious has strong, well developed characters and an interesting story line that keeps you turning the pages.
Amazon Reviewer
---
SUDHA KURUGANTI writes fantasy that draws Indian mythology and folklore.
Sudha's short stories have been published in several anthologies and featured on All India Radio. She's a commissioned artist for the Digital Writers' Festival 2018.
Her books are inspired by Indian mythology, but they can be enjoyed by casual readers. When required, they include explanations of the myths and legends referenced in the book.
---
You'll also love
Urban fantasy stories that thrill and chill. Swoon-worthy paranormal romance. Magical multicultural stories.
---